I AM opening the Floodgates of God's Abundance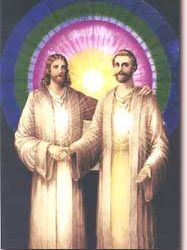 I AM opening the floodgates of God's abundance pouring freely and easily into my life.
I AM calling deeply and lovingly to the source of all life, my Mighty I AM Presence.
I AM calling forth all the Light, Love, Health, Wisdom and Riches that I need from God's limitless opulence and supply.
I AM calling forth the boundless treasures of Heaven to flood forth into my life, instantly and without fail.
I AM calling for that limitless abundance to manifest instantly in my life in perfect harmony with the Holy Will of God.
I AM grateful Beloved Father-Mother God, Beloved Alpha and Omega, for the opportunity of this life, for every good and perfect gift which comes my way.
I AM mindful that Jesus has decreed that I AM come that all might have life and that more abundantly.
I AM demanding the floodgates of Heaven to open in my life as opportunity, freedom, inspiration and the spirit of Victorious overcoming.
I AM demanding a cosmic miracle of Light's perfection to manifest in my life and in the hearts, minds and souls of all God's children, according to God's Holy Will.
In the name of Mighty Victory, I AM calling for a wave of golden victorious light that would wash away all the darkness, confusion and despair of fear, doubt and human questioning.
I AM inspired to blaze forth the gift of the violet transmuting flame from the blessed hearts of Beloved Saint Germain and Portia to help bring in a Golden Age of Aquarius.
I thank you and I accept it done this hour in the full power of living Word, the living Presence of Christ Jesus with us.
I AM the light of God that never fails to bring in the bright New Day.
Amen.